Our Covered Area
Los Angeles is a large town that can not be tied up. Among them, we will pick up areas popular as residential areas, introduce real estate circumstances, school circumstances, traffic access, natural environment and so on.
■ Los Angeles - area MAP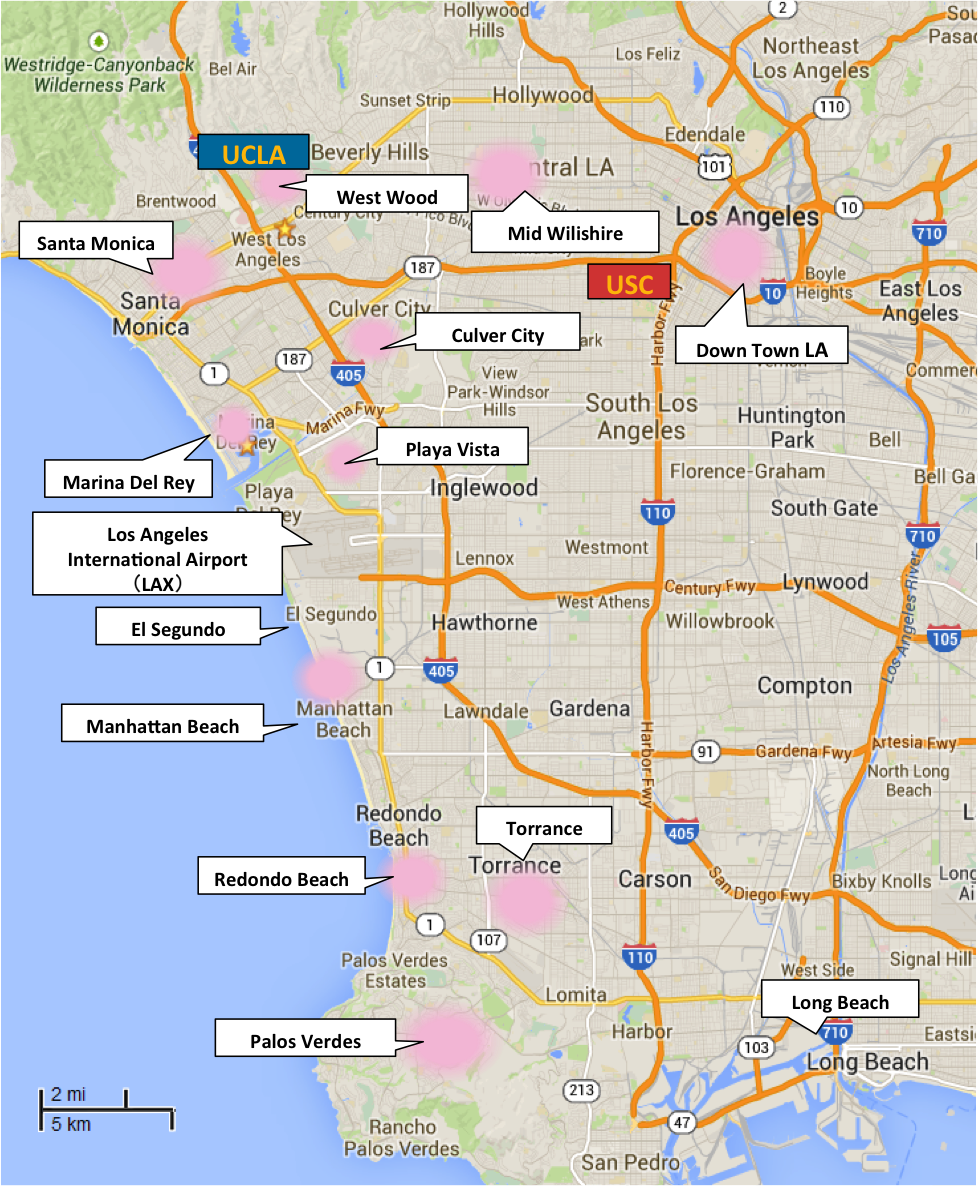 1. Marina del Rey~Playa Vista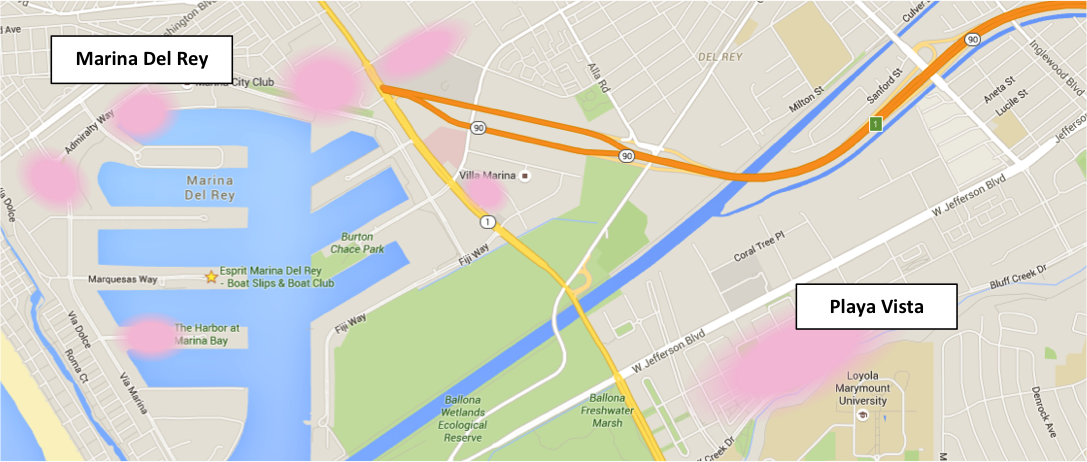 ■ Marina Del Rey
Located about 6 miles north of LAX, Marina del Rey is the city with the world's largest yacht harbor. Because it is close to the entrance of 90 Fwy, it is possible to commute to both the downtown area and the Torrance area. There are many commercial facilities and restaurants in the vicinity, Japanese supermarket "Mitsuwa" etc is also located about 10 minutes by car, many Japanese live. It is a popular area for couple, single people, and households with children around nursery school.
Apartments in the rent are scattered along both the city of Marina del Rey and the yacht harbor. There is also a rental property of a condominium for sale, all of which are characterized by many well-equipped properties such as pool and fitness center.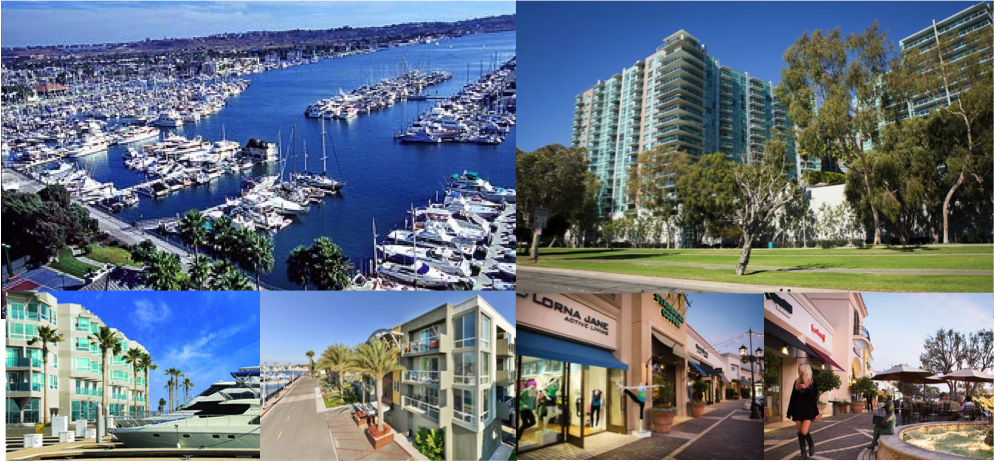 ■ Playa Vista
Over 10 years since town opening, landscapes incorporating plazas and greenery abundantly, and making safe towns with separated people and car roads are calling popularity. It is approximately 4 miles north of LAX and has good access to freeways, close to Marina del Rey and El Segundo coast.
Elementary school opened a couple of years ago, Hole Foods Market, cinema, restaurant and so on are opened from time to time in 2014 and Google is also in the neighboring office district. There are several rental apartments in the community, and there are also real estate for sale.
Since Venice beach to Playa Vista has offices of IT companies such as Google, Microsoft, Facebook and so on, it is named "Silicon Beach" and attracts attention also to IT / entertainment workers.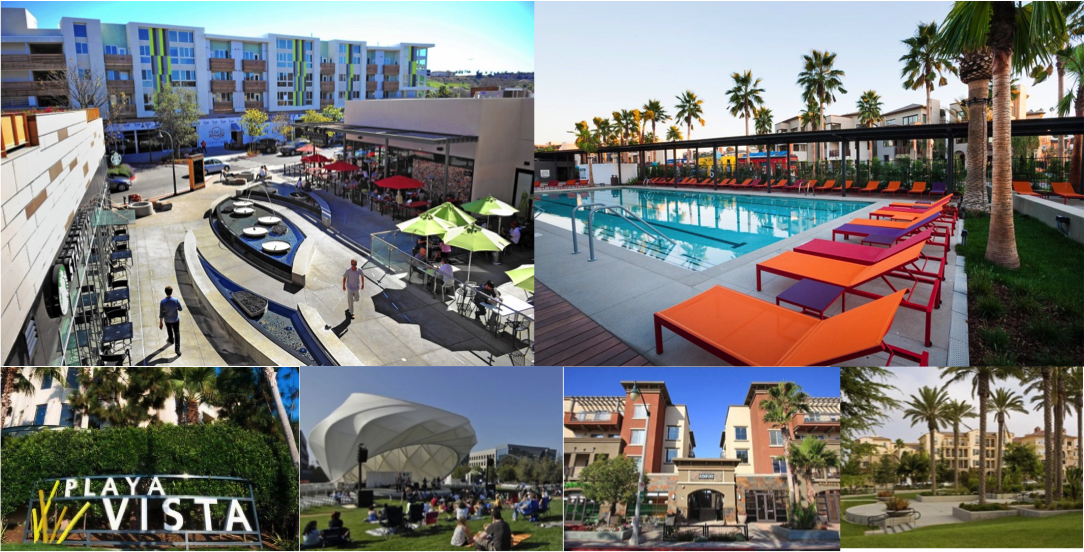 2. Santa Monica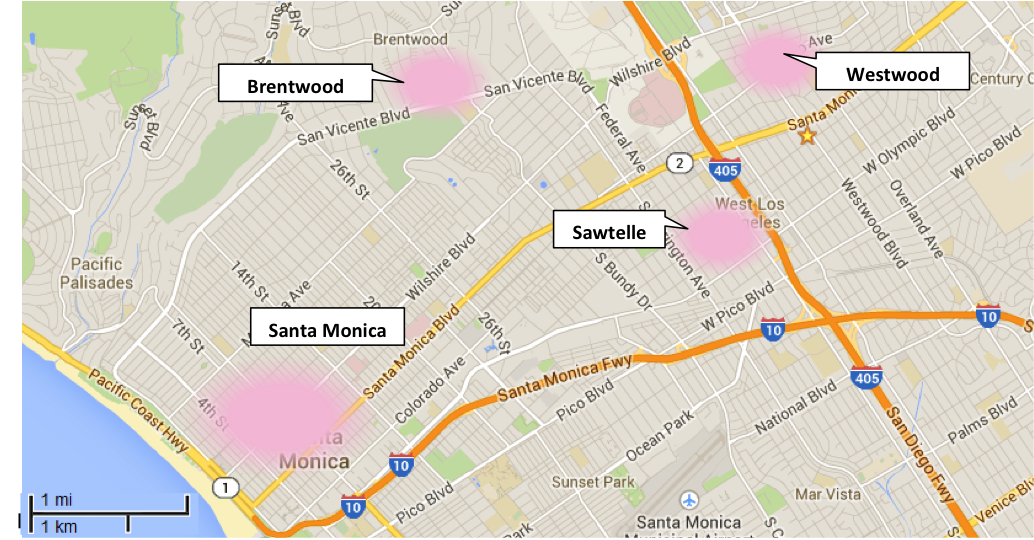 ■ Santa Monica
Santa Monica, the most famous in LA. In the vicinity of the beach and the Santa Monica Promenade, a lot of rental apartments for remodeled or single person added in recent years have appeared. However, as the popularity is high, the closer to the sea it is narrower and the rent tends to be higher. Because the land is limited, there are few large rental luxury apartments, and as you go to the north and eastern areas more old property will be. Sawtell is a Japanese style supermarket, a street where restaurants have settled, and it is convenient for shopping.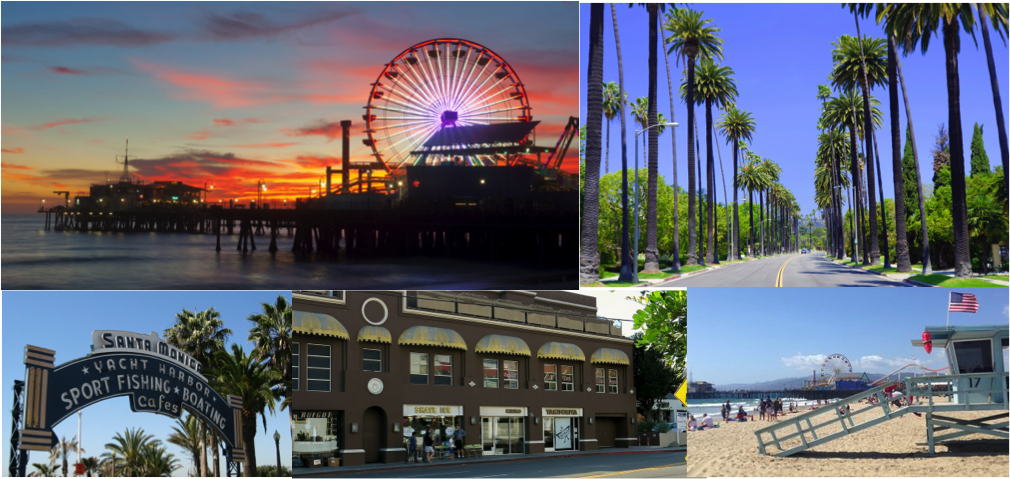 3. Mid Wilshier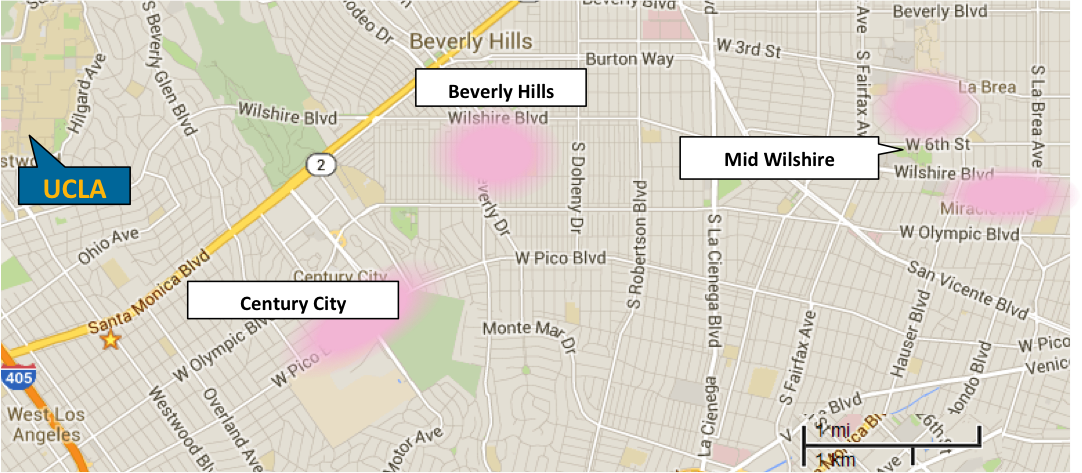 ■ Mid Wilshire
Commuting from Mid Wilshire to downtown is near and convenient. In the case of Century City, Beverly Hills, it departs from the freeway, and the morning and evening may become a bit of traffic jam. The Globe and many other commercial facilities are gathered, and there are scattered museums as well. In the surroundings of Mid Wilshire there are a lot of relatively large new large rental apartments. There are many roads with many traffic, including Wilshire Street, but depending on the location of the room it is quiet and there are rooms where you can take a view of green and downtown.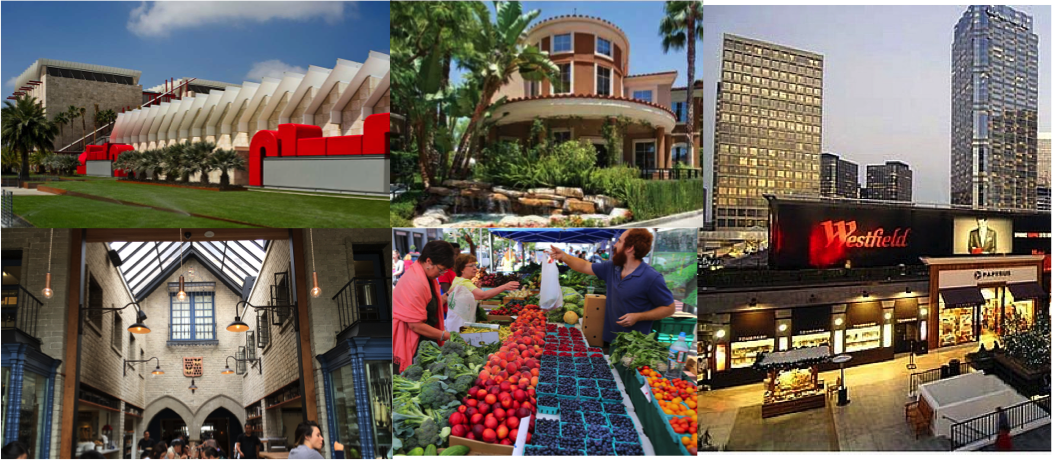 4. South Bay (Torrance~Palos Verdes)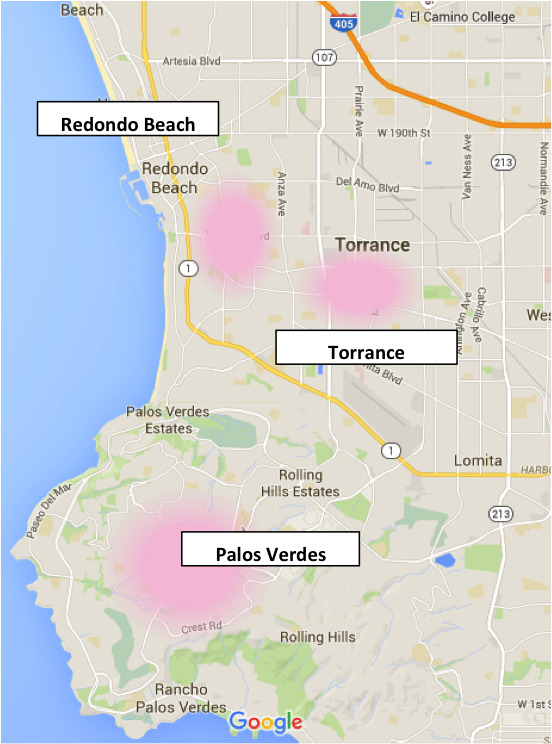 ■ Torrance
· The south area from LAX is called South Bay and it becomes the center of the Nikkei community. In particular, Torrance is 10% of the city's population are Japanese and Japanese-Americans. Public school district is good, safe and relaxing city creation is popular reason.
· Because there are many old rental apartments, those in Japan who are resident from Japan are likely to live in reserved properties for rent. Complex surrounded by gates dotted in downtown area, including representative of gate community "Plaza del Amo".
■ Palos Verdes
· In the area where the topography and nature of the hilly land remain abundantly, there is a spectacle where a lot of houses of a flat shop are lined up in a spacious land. Because it is said that the public school district is the best, the families who are keen on education prefer to live.
· It is a popular area for representative households of local companies with families as there is also a small town home, centering on the sale of detached houses. Although it is a commuting area to South Bay, some people go downtown from here.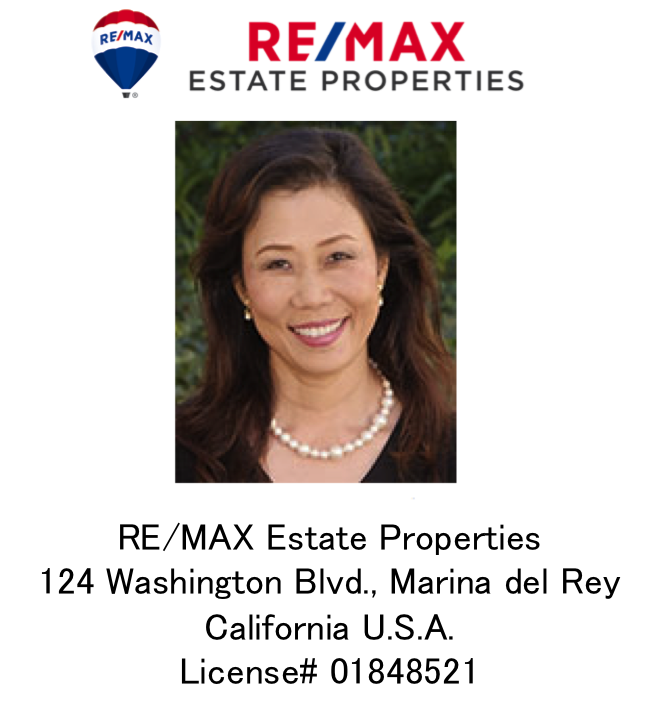 ■RE/MAX ESTATE PROPERTIES
Real estate service
Residential home sales / Multi unit property sale / Lease
■H2N
We are a consultant in the real estate market where we specialize in marketing, coordinating business tours and events.
Contact:310-951-8233 info@H2Nusa.com